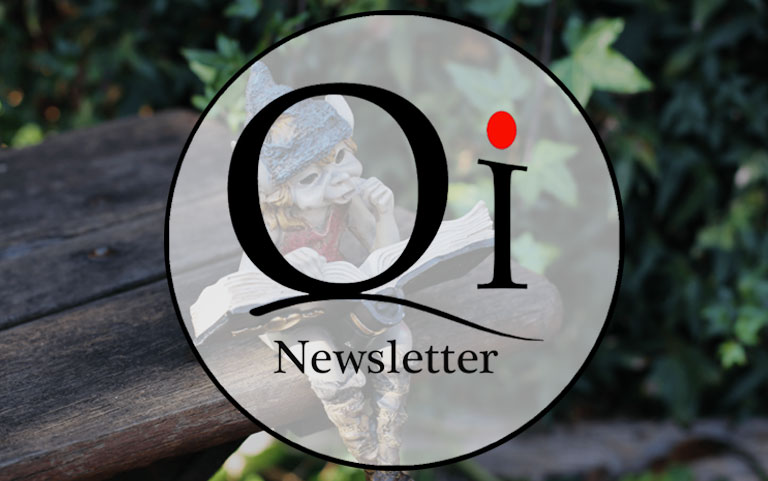 July at Qi: The Element of Water
We are in the astrological sign of Cancer from June 21 to July 21. The element of Cancer is water.
Water is a vital element of sustaining life. In ancient times, sacred places and settlements were almost always built near water sources. Some of the sacred springs have been flowing for millennia.
The water element is linked to emotion and imagination. It brings a deep sensitivity to rhythms and cycles, but it may not fit well with the demands of linear, structured time.
One of the challenges for people with strong aspects of water can be setting and maintaining boundaries.
To balance the fluidity of water, stand with your knees slightly bent and hands resting flat against a wall. Lean into the wall and feel the solidity of matter pushing back. This can also be done with the soles of the feet, lying on your back with knees bent and feet flat against the wall.
A water ritual: find or create a secluded place in your home or garden (you may need to ask others to respect the boundaries of this place.)  Place a jug and bowl in the space with any other symbols you associate with the element of water (e.g. shells, images or carved figures of frogs, fish and other water creatures, colours in the blue-green range.) Fill the jug with water. At a specific time each day go to your sacred water place and slowly pour water from the jug into bowl, holding awareness of water as an element of life, flow, cleansing.
Maintain this practice for at least one month, noticing your responses, writing and/or drawing in a journal. You can empty the bowl onto plants or into the garden and refill the jug as needed.
Water stones: Amethyst, aquamarine, Azurite, Moonstone, Blue Calcite, Blue Lace Agate, Celestine, Chrysocolla, Blue Tourmaline, Pearl, Selenite.
Have a read on for what's news at Qi; four new practitioners on board this month, and exciting events coming up!

Dear Heart,
Welcome to the month of July and all that it brings!
July will most likely be an intense month for many as there will be two eclipses and eclipses generally bring a sense of a turning point. However, the first solar eclipse on the 2nd and 3rd of July should be generally positive as it will be an opportunity to enjoy yourself! Take the time to celebrate just how far you have come! It will be a wonderful time to connect with others in a lighthearted way. (Read more)
Growing up, I was always fascinated by the beautiful pictures and messages in a deck of cards at the spiritual shops. I always found them uplifting, filled with positive energy and they made me happy. Even when I look at them today, I feel that same feeling as if I am looking at them for the very first time. That childlike wonder and awe of the beauty of the card and messages; so calming and comforting. This fascination quickly became a passion which took me to my path of being a Reader and Teacher. .. (read more)
Imagine this "dream" for you, to be so empowered that you understand that you and you alone decide how your life unfolds. Make the story you tell about yourself so magnificent that there is no gap to fill with anything that is not light and awesomeness.
That your inner talk about your world, IS the world that unfolds before you, see only love, remember what you wish for another return's tenfold.
Be Grateful for everything the Ying and the Yang. Be kind it costs nothing and has huge hidden rewards…. (read more)
Welcoming Chaturi, Jacinta & Mary onboard at our Healing Centre, and Aisling is back!: 
Chaturi is an advocate for healing through self expression. She holds a lantern for you to explore the deep recesses of your mind, your childhood, and the patterns that leave you stuck. She believes that transformation comes through subtle shifts… (read more)
Sound Bath Meditation
Psychic Intuitive Life Path Readings
Body, Mind, Spirit Cleanses & Nutrition
Jacinta has been teaching for over 15 years, assisting individuals to see the path to integration and alignment… (read more)
Energy Healing
Kinesiology
Facial Serenity Massage
"I have always had a keen interest in health, nutrition and alternative therapies- but it wasn't until diagnosed with a brain tumour and subsequent disease did I begin on the path… (read more)"
Aisling is back! Offering Tarot Readings & Metaphysical counselling every Sunday at Qi.
When divine timing brings us to crossroads, contemplation of Viennese poet Arthur Schnitzlers's three principal virtues… (read more)

Thank you for reading!
Love & Light,
xx