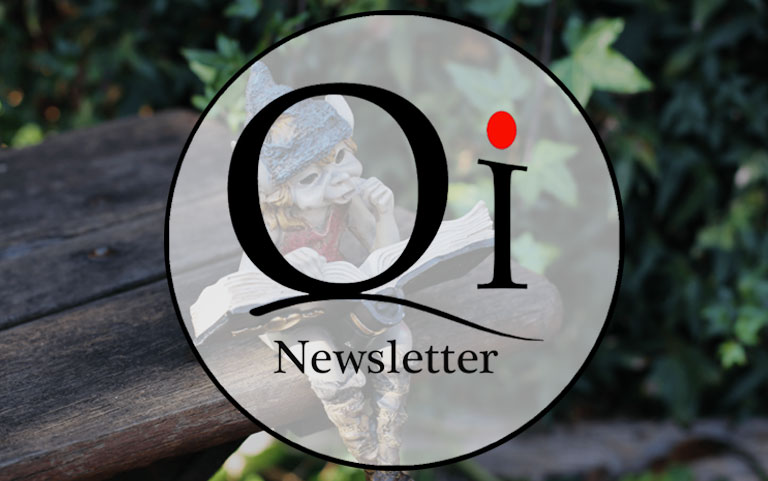 With the silly season almost upon us, we have been working hard to make sure that we have lots of great gift ideas and new goodies for you to choose from. Lots of new stock arriving daily!
We have a great range of jewellery on sale at the moment, and our Open Day mini-treatments are still available to be booked here: click here
Thank you to everyone braved the weather and came to our Open Day. Once again, we had a day of beautiful community spirit and our hearts are filled with gratitude for your continued support.
Read on for the latest at Qi!


During November there may be a sense of going into the underworld as we are in a Scorpio cycle. Transformation, sex, death, taxes, and so on are all highlighted this month.
Energetically there is a lot happening with the solar plexus, particularly just underneath the tight band of muscle below the abdomen. This area is like a pocket, and there may be a sense of being submerged, or even of being pulled down into a pit or pool of water… (read more)
Good health is not just about eating heathy food and exercise. We can run and go to gym everyday and drink celery juice till the cows come home but if our minds are constantly churning with negative thoughts, it will be overriding all that healthy work we have been doing.
Every thought is energy, so every thought has an impact on our body and environment. When we have happy, positive thoughts and emotions… (read more)
Today is Halloween, so what better day to be writing about negative entities, spooky influences and things that go bump in the night?
The radio conversations on my journey to work were all about hauntings, visitations and unexplained metaphysical phenomena, so it was no surprise when my first client of the day needed an entity removal. Spirit intrusions or psychic attacks really can occur if your aura is damaged. The hole in the aura is literally a portal to lower vibrational energies… (read more)

Thank you for reading!
Love & Light,
xx