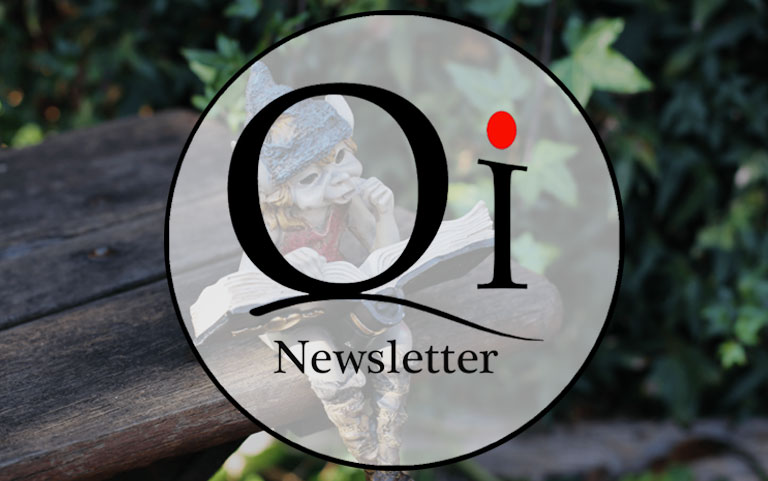 Sweeping up the fig leaves in our sunlit courtyard today I noticed that for the first time our self-sown fig tree had a bounty of ripe fruit hanging from its branches. Ready to eat fresh from the tree I couldn't resist and was pleasantly surprised with some of the nicest figs I have ever tasted! In that moment I felt truly blessed at the abundance and beauty of all that Qi has become (including our garden and this fig tree)
I thought about the rich microcosm we have nurtured and grown here in Caulfield. I felt honored that we get to hold this sacred space for so many people- our talented, passionate team of practitioners so that they can do their important work. But most of all we hold this space in support of you our beautiful, loyal customers. It is truly a pleasure to share this journey with all of you…
And as the season changes yet again and Qi heads into its twenty-first winter in Caulfield, I reflect on the journey… For me this autumn there is a sense of coming of age – Our shop is ripe and full, with so much beauty and richness inside! All our hard work and tending is reflected to us in the richness of our surrounds and in the community we have built. I still love what I do!! Thank you as always for your support 😊

When I launched my business a few years ago I named it A Seasonal Life because that's essentially what life is. It's a dynamic ever-changing existence, yet also with a sense of familiarity as we keep returning to the same seasons.
We know that blossoms will come out in spring; the trees will grow lush and green over summer; the leaves will colour and then fall in autumn and the branches will bare all as nature moves inwards to regenerate in winter… (read more)
In my years as a therapist and teacher I regularly get to witness the magic that occurs for people who step into the Spiritual arena. There are many reasons why people are drawn to spiritual practices ranging from a need to heal trauma through to curiosity. No matter the reason, change is inevitable for all who do.
What I have witnessed in others is a change in the frequency which I can identify when I see a glow, not just an energetic glow… (read more)
Meditation practice will in time create the portal to expansive awareness. The space between opposites will become apparent when losing focus or attachment to opposing ideas, thoughts and belief systems. Contemplate the space that exists between the mental and the physical. This space holds the state of stillness and expansiveness. Witnessing the space that exists between opposites will provide you with a deeper sense of knowingness without needing… (read more)
Wholistic Osteopathy
BioDynamic Cranio-Sacral
Body Mind & Soul Coaching
Dr Aleksandra is a Freelance Osteopath, specializing in biodynamic cranial Sacra therapy. She has been on a journey of self discovery and, at the same time helping her clients achieve true health…. 
(more)
Forensic Healing
Reiki/Seichem
Holistic Counselling
"As a child I enjoyed my "beingness" and I have vivid flashbacks of "being", usually in nature. As I got older the conditioning of life and my experiences layered over the real me and hindered this ability to just be. In my 20's I was introduced to spiritual/energy based healing modalities and this deeply resonated…
(read more)
ACTIVATING HIGHER CONSCIOUSNESS
with Manjit Mieskowski
Friday nights / 6 – 8.30PM
These divine mini workshops have been created to elevate your consciousness, expand your heart and open your mind to your divine frequency.
Various tools will be used throughout theses mini workshops, such as sound, crystals, healing, light code activations, light language, meditations, movement, sharing, plant medicine and so much more. This is scared space where transformation will occur. You will journey to find answers and awaken a remembering that will guide you to move forward in your spiritual evolution.

Free 20 minute sessions & $20 off all initial sessions with Lara
$50 Half Day Mediumship Workshop with Janette
Thank you for reading!
Love & Light,
xx