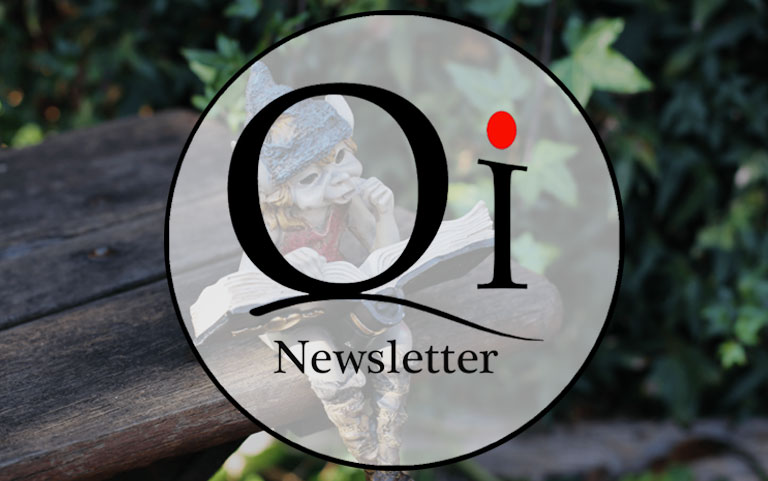 We are looking forward to the year ahead with much excitement… and anticipation. With two major projects for 2019- our sights are firmly set on opening our whole food organic café and launching our online store… it is sure to be as busy as ever for all of us at Qi!
This month we have four new practitioners joining our team of talented holistic practitioners- feel free to give them a call if you have any questions about the way they work or to make a booking.
Our weekend workshop space (Garden Studio) is quickly filling up- This means once again we'll be bringing you a huge range of weekend courses and workshops throughout 2019. Check out our website for a list of what's on.
We will continue to bring you the best range of jewellery, and crystals from around the world with new stock arriving all the time- check out all the new goodies we've put out in recent weeks!
We will be closed for the Australia Day public holiday on the 28th (but open on the Saturday, 26th.)  Our new bookstore will continue to stay open until 9pm weeknights with many of our weekly classes and groups returning mid January. Again, check out our website for a list of what's on in terms of regular classes and groups.
We look forward to sharing another year with you all. May 2019 bring you health, happiness and much abundance.
With much love and gratitude… forever in your service,
Qi and the team xx

January is the perfect time to play with intention as the collective energy focuses on releasing the old and welcoming in the new.
One hears the word intention everywhere yet there can be many myths and misconceptions as to what it's really about. Often when we set an intention it's coming from our ego's wants and desires. We then feel disappointed or lesser when it doesn't actualise. For intention to really serve you, it's essential that you actually tune in to what your SPIRIT or HIGHER SELF intends for you… (read more) 
Dear Heart,
Welcome to the start of a New Year!
Let's take a moment to fill ourself up with gold, with pure golden presence and radiance.
This is Life Force.
As we connect to this life force, let's allow ourself to expand in every direction.  Getting bigger and bigger, more and more expansive…
Getting lighter and lighter.  More and more uplifted… (read more)
Today we are more and more driven by this idea of being "all that we can be". Gone are the days when we can keep score of the game of life by figures on a bank account, trophies on the shelf, or plain good old status.
But what is this all-illusive ideal?
Simply it is the ideal of getting the most out of this life, to be all that you can become, and to live from your true essence. Let's look at each of these.
Getting the most out of this life… (read more)

January 2019:
February 2019:
Thank you for reading!
Love & Light,
xx